In this project we are investigating autoantibody profiles in serum from cancer patients. Such antibodies could be due to aberrantly expressed or mutated proteins in the tumour ("neoantigens") and could be useful as biomarkers. We find different patterns of autoantibodies in different patient groups, and are now focussing on several pediatric cohorts.
The project received a postdoc grant from The  Pioneer program of the Norwegian Cancer Society and one from The Pediatric Cancer Society, allowing us to pursue these findings!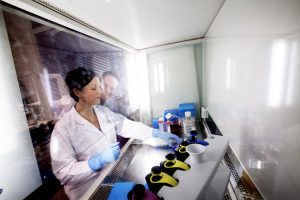 PhD Anastassia Serguienko has developed this project, and will now have the opportunity to continue her work, and was joined by Dr Jeetesh Sharma funded by the Pioneer grant. More in Norwegian: Les mer om prosjektet og pionerutlysningen på kreftforeningens sider.